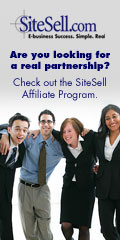 AffiliatesDirectory.com's Affiliate Program of the Year - for over 10 years since 1999.
SiteSell's Affiliate Program offers excellent commissions and great support (THE best I've ever seen!). Previously a two-tier program (no more), some of the gloss has been taken off this program. The items on offer though are first rate as is the support.
Recommend SBI! on your site, blog, zine, favorite social media platform or even offline.
A FREE Download of Ken's "Affiliate Masters Course" is available here!
Detailed View Read 1 Review Review It Rate It Report Bad Link Bookmark It Recommend Listing
This is the best I've seen.
You've got to try this Program
Reviewed by: Billy J., Apr 2 2005 12:00AM
I've tried a lot of Affiliate Programs over the years and I must admit that this is the best one I've ever tried.

I've been making a real steady income from this program for the past 12 months and the number of products that keep getting added to this Program makes it so easy to sell.

I recommend this to anyone who wants to earn some real profit from an Affiliate Program<
79 of 353 people found this review helpful