Detailed View
Program Details:
The SiteSell Affiliate Program
popular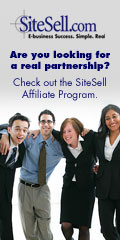 AffiliatesDirectory.com's Affiliate Program of the Year - every year since 1999!
SiteSell's Affiliate Program offers excellent commissions and great support (THE best I've ever seen!).
Recommend SBI! on your site, blog, zine, favorite social media platform or even offline.
A FREE Download of Ken's "Affiliate Masters Course" is available here!
---
Read 1 Review Review It Rate It Report Bad Link Bookmark It

Recommend this Listing
---
Our Comments:

This Program is a MUST JOIN for anyone who wants to promote a high quality business solution that's perfect for nearly every niche or demographic online and earn generous commissions by doing so.
If you only choose one affiliate program to join this year then SiteSell's Affiliate Program MUST be it!
Affiliate Tools and Resources
This Affiliate Program provides the following support, tools and resources for affiliates to help them promote this program:
Banners
Datafeeds
E-Books/Manuals
Emails/Sales Letters
Forums
Newsletter
Reporting Tools
Resource Center
Text Ads
---
Popularity
Hits OUT by Month -

Year: 2017 Unique Hits: 145 All Hits: 249
169
Hits
169
80
Month
Jan
Feb
Mar
Apr
May
Jun
Jul
Aug
Sep
Oct
Nov
Dec
This is a graph of All Hits by month for 2017.
---
Reviews
You've got to try this Program
Reviewed by: Billy J., Apr 2 2005 12:00AM
I've tried a lot of Affiliate Programs over the years and I must admit that this is the best one I've ever tried.

I've been making a real steady income from this program for the past 12 months and the number of products that keep getting added to this Program makes it so easy to sell.

I recommend this to anyone who wants to earn some real profit from an Affiliate Program
---
71 of 317 people found this review helpful